Inflatables
Even with modern technology, kids and adults alike still delight in the simple games of skill. All generations love to try to get the ball in the milk can, the ring over the pole or hit the target. The games of skill are fun for all ages and always will be. We rent games designed and custom built by us just for kids as well as many of the classic games that have been around forever. The speed of play makes carnival games a great addition to large events.
We have spectacular Interactive/Inflatable Games for every age group and event type.
Weather it is a Picnic, Corporate Team Building event, Grad Night or a Community Festival we have units that will entertain the crowd. Most of our inflates are unique, many of them are challenging, some are hilarious to watch but all of them are fun!
We attend several trade shows a year and literally search the world for games that will measure up to our standards for quality, fun, safety and aesthetic appeal. The large interactive games where safety is a factor come with trained staff person to deliver set-up and supervise the fun and we are insured.
P.S. Not all inflatables are created the same. We have a variety of inflatables that far surpass your birthday party bounce house. Check out our categeories below for more specific inflatables for your event, or scroll through to see everything alpahabetically.
ADRENALINE RUSH OBSTACLE COURSE
Huge 360° obstacle course is the ultimate race. Two players do their best to get to the end of the course before their opponent by crawling, squeezing, climbing, rolling, and sliding through the challenging obstacles. Separate but identical courses for each player adds an additional element of safety to the game.
AIRBORNE ADVENTURE
Players are safely strapped into a specially designed harness attached to a parachute inside the inflatable spacecraft. The attendant turns on a second blower and the player goes way up above the crowd for a birds eye view of everything. The attendant turns off the blower and the player floats gently down to earth. This is a very unique fun experience for kids. Maximum weight is 175 pounds.
AQUARIUM PLAYSPACE
This huge inflatable play space features all kinds of fun stuff inside for the kids to jump on and play with including giant yellow starfish sea serpents, a giant turtle, a corner slide and other cool things. The enormous size of 31' x 31'x14' tall allows 15 kids at a time to play inside.
basketball challenge
The action is fast paced in this competitive game. Each time you score a basket the ball comes out on your competitor's side and each time they score a basket it comes out on your side. The object is to be the first one to get rid of the balls.
BALL CRAWL
The kids can jump for a while and then play in the over 2000 balls that we can put inside of the inflatable Carousel. The inflated size in 12' x 12' x 13' tall. The ramp is approximately 5' long.
BALOON TYPHOON
The fun begins when children step inside one of these brightly colored characters and find themselves in a whirlwind of flying balloons. The Balloon Typhoons combine all of the elements of motion, color and catch. This is the perfect choice for the 3 to 8 crowd.
Choose from a friendly Clown or the Baboon Typhoon.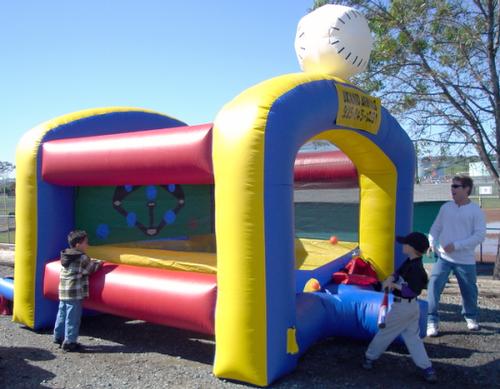 BATTER UP T-BALL
The ball is suspended in air while the batter tries their best to hit it through one of the holes in the outfield. It could be a homerun or an out. The ball rolls back down to the front after each hit. This game is not just for the little ones. Kids up to 13 (even some adults) enjoy the challange. 12' x 14'.
BUNGEE BASKETBALL
This is a cross between a basket ball competition and tug of war. Each similar size player starts in the middle attached at the waist to their opponent with a bungee cord. On your Mark Get Set Go! Each player tries their best to make a basket on their side of the inflate, the problem is their opponent is trying to do the same thing as they are attached to each other with a bungee cord that will only stretch so far. Try to make a long shot and miss and you to experience the challenge of trying to pick up your ball while your opponent is pulling like crazy to get closer to their basket. Loose your balance while shooting and the other player will take advantage and bring you back to the middle so they have an easier shot. This is a challenging game that is fun to play and even more fun to watch.
BUNGEE RUN
A giant bungee cord is attached to each player. Each player runs as far as they can until they are pulled back like a giant sling shot. Each player marks his or her distance with a velcro marker on the center wall. This 36' long inflatable will keep them coming back for more!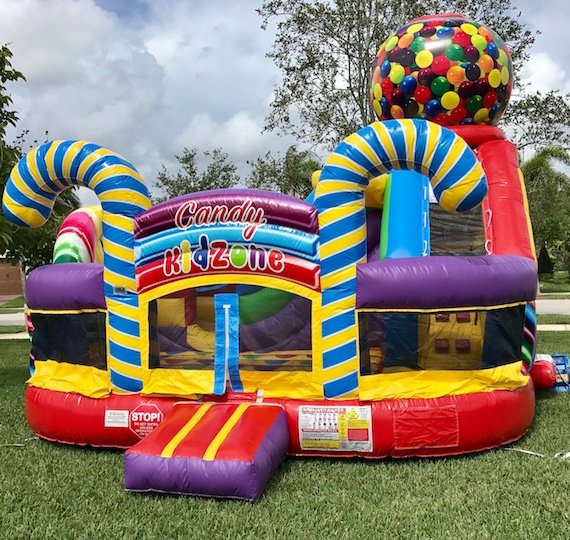 CANDY KIDZONE
This beautiful, colorful, vibrant candy themed bouncer is excellent for young kids. This unit is a combination unit with a slide, a bounce area, and even a ball hoop! Let your kid's imagination run wild in this candy delightment without worrying about cavities!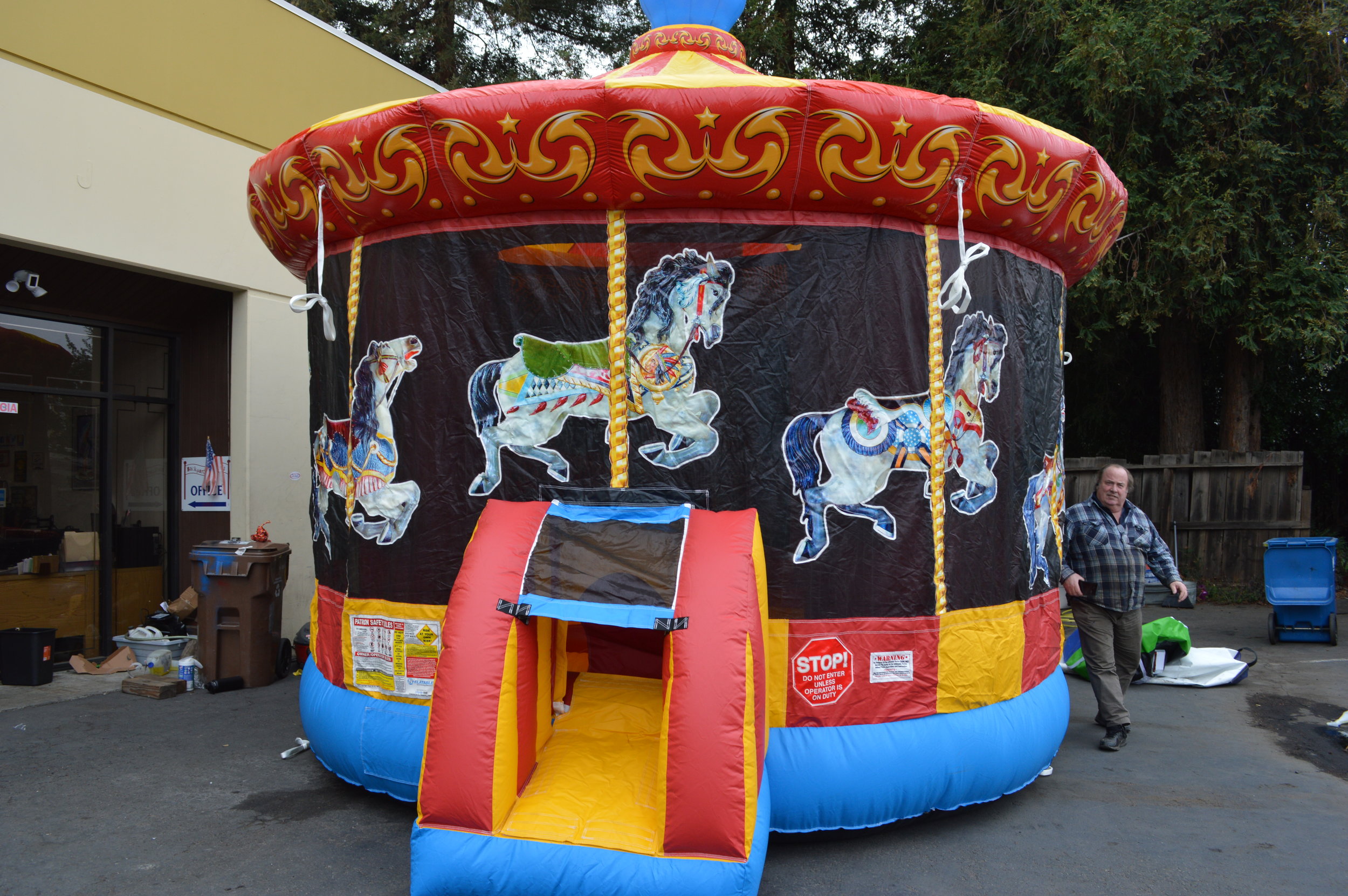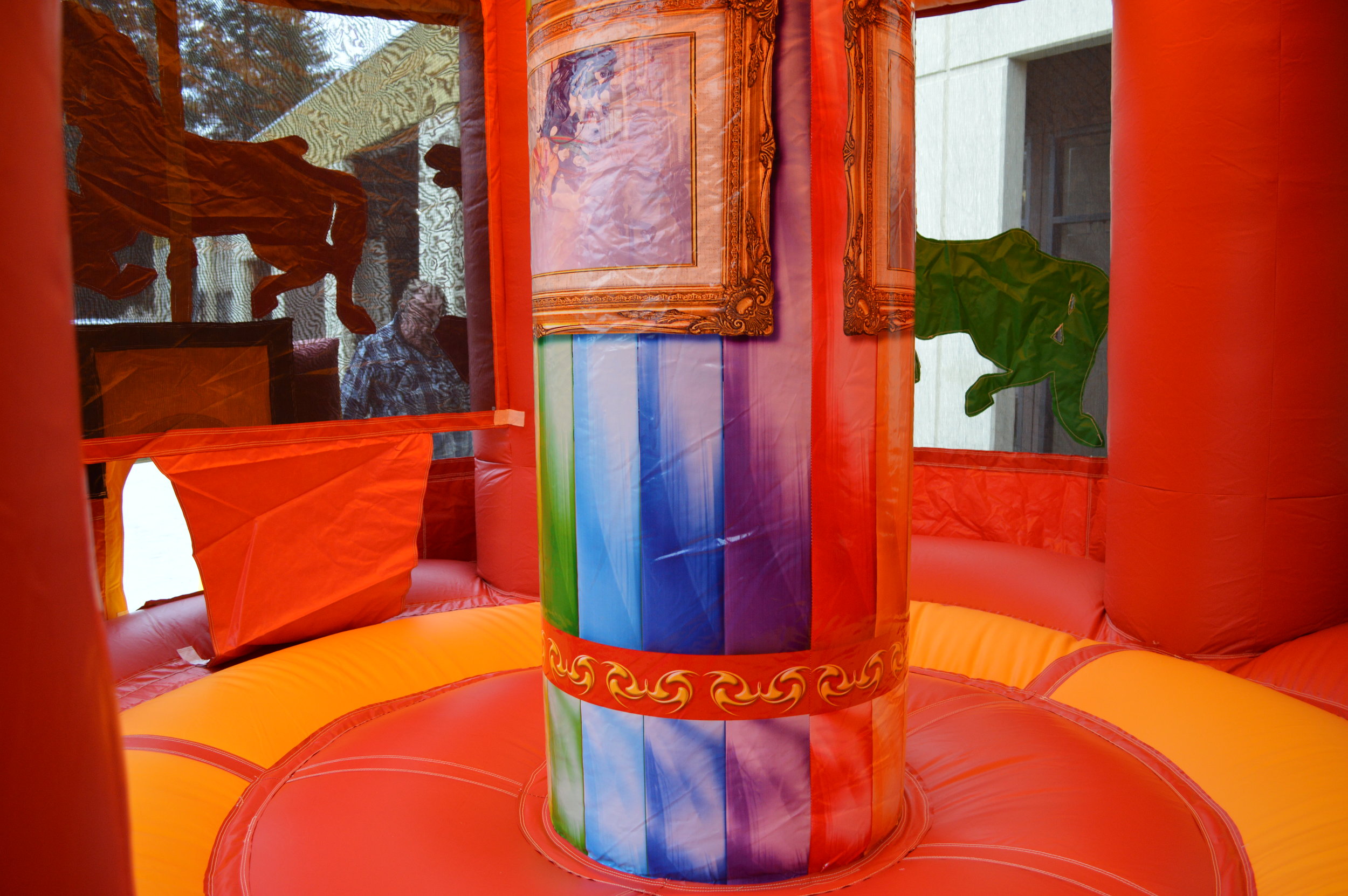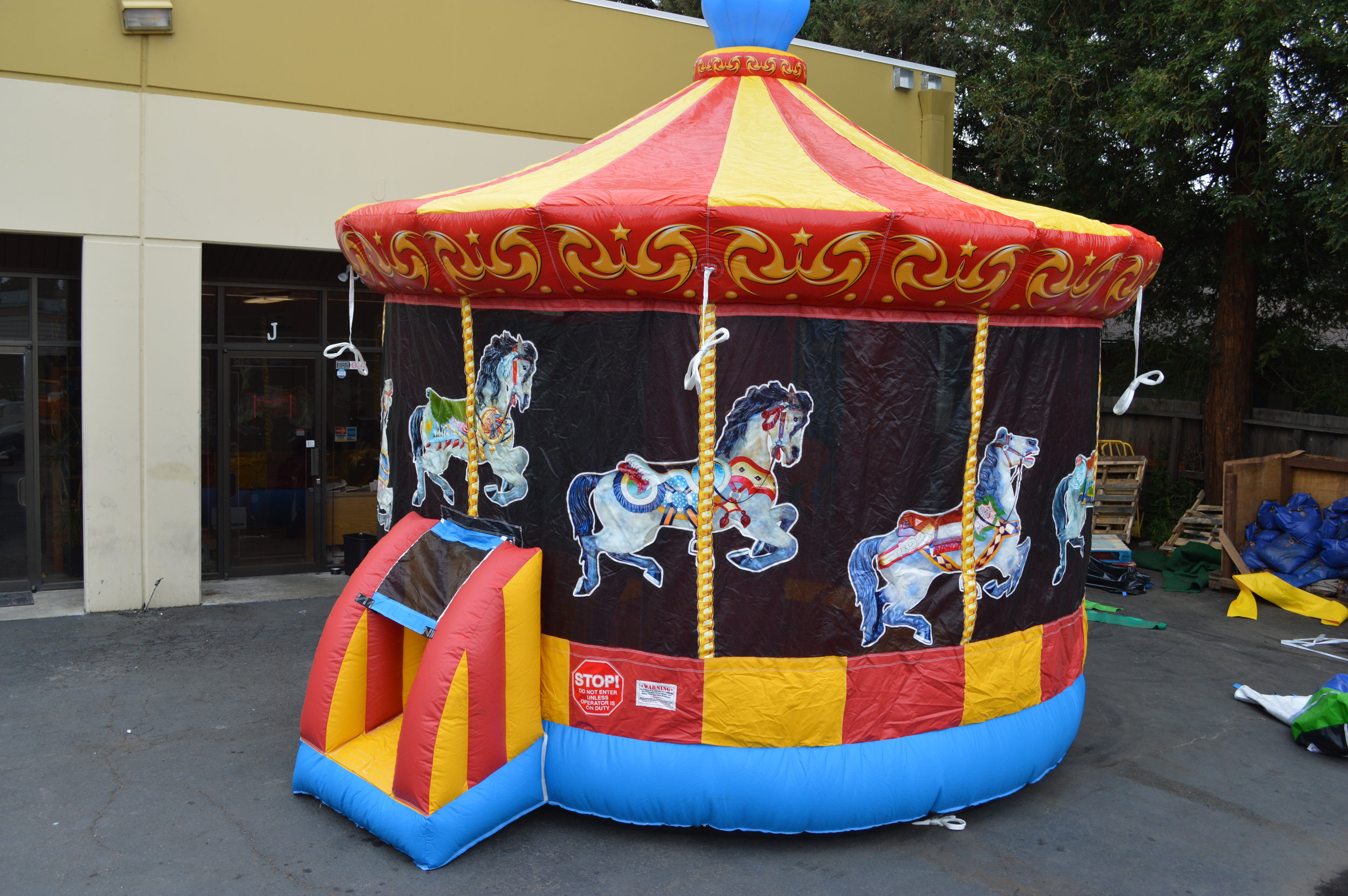 CAROUSEL BOUNCE
Bring the classic carnival theme to life at any event with our Carousel Bounce! This 15' X 18' bouncer can hold five little ones for hours of fun!
DOG BELLY BOUNCER
Everybody loves puppies! This joyful, dog themed bouncer has a 15'x15' bouncing area and requires a minimum of 25' for setup because of the large puppy head.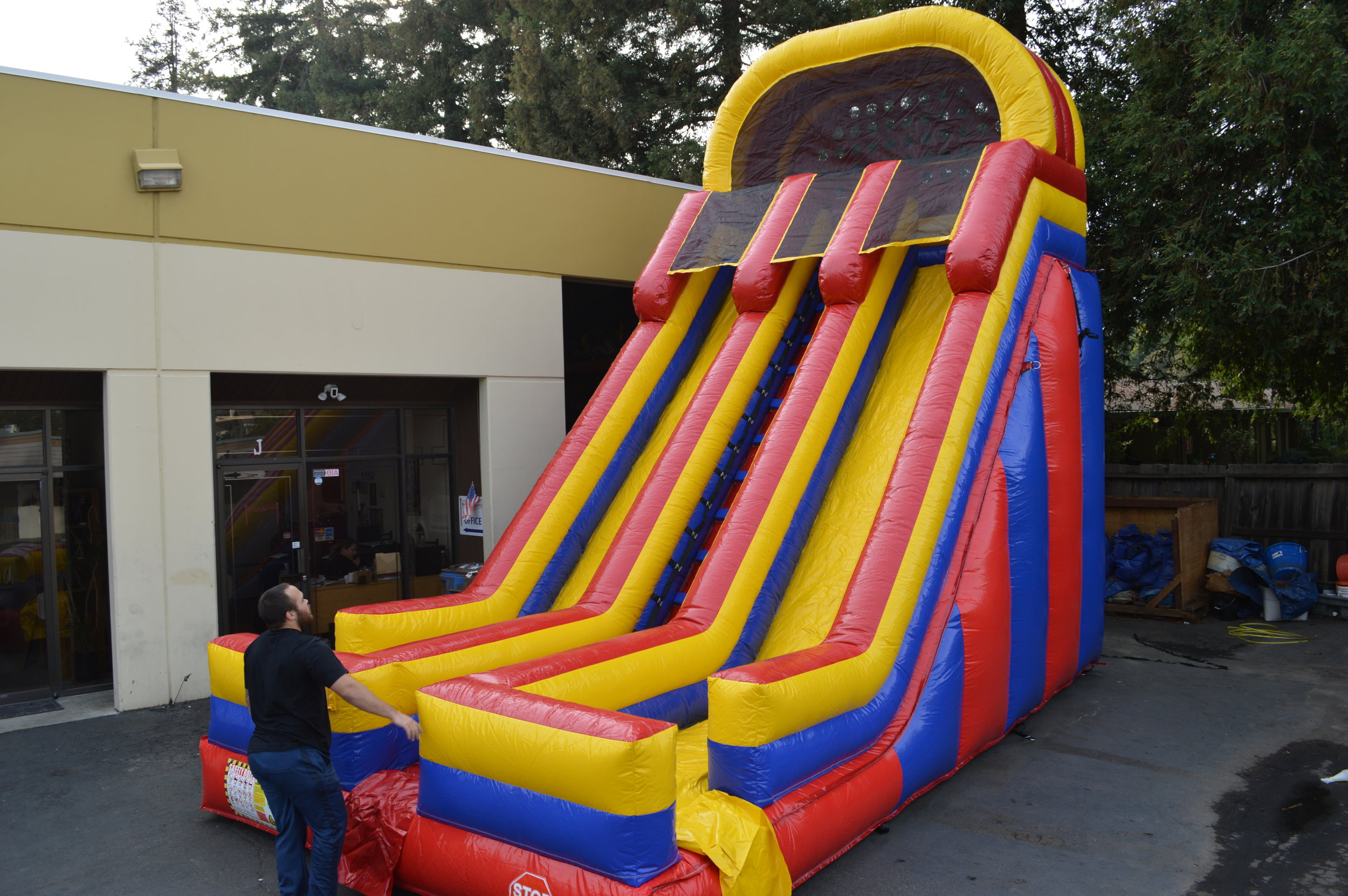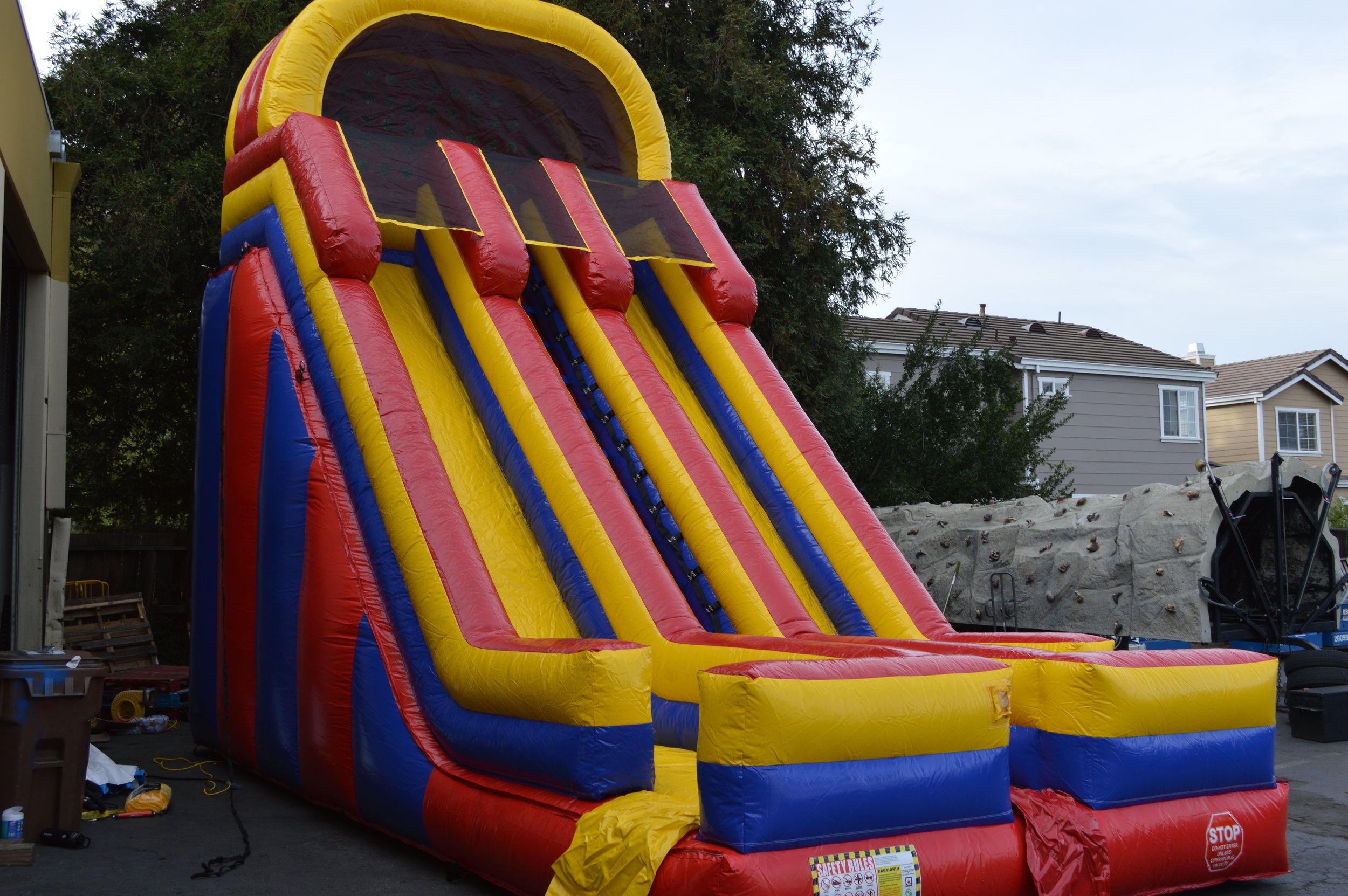 DUAL BAY SLIDE
Players climb up the slide in the middle and then slide down either side of the game. The dual slides allow this game to handle a lot of players per hour. This unit is steeper, faster and has a slightly smaller footprint then our standard 22' slide. We had it built with screening at the top so the players cannot jump from the top onto the slide. They must sit to slide.
DUMP TRUCK SLIDE
A great big fun slide that looks just like a Dump Truck! The unit is 35' long by 20' wide and 19' tall this is a head turner! Combine it with our skid loader Bounce House and it is a great construction theme party.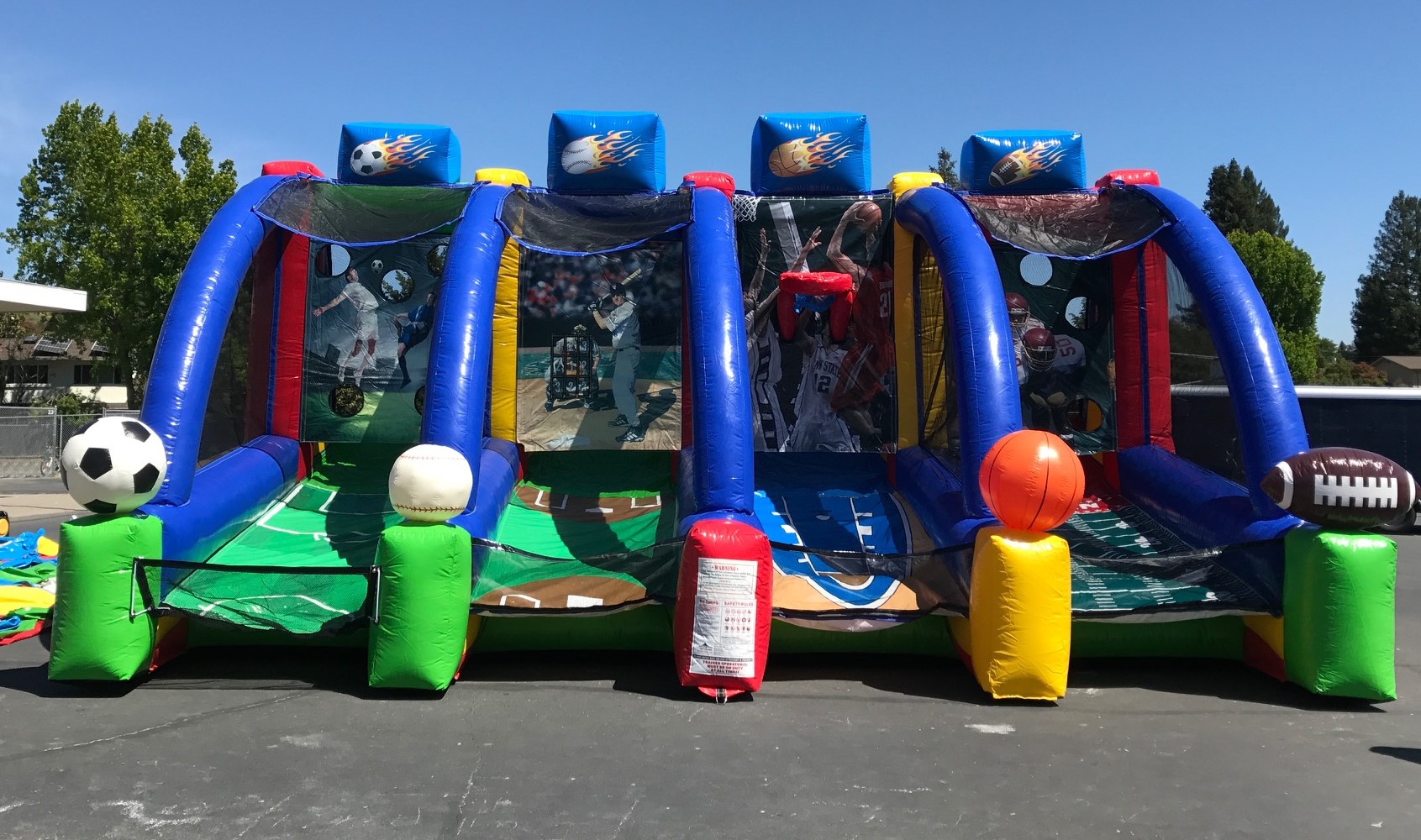 FOUR IN ONE SPORTS
All the fun in one inflatable game, Basketball, Baseball, Football and Soccer!
FOUR WAY JOUST
This game is a cross between King of the Hill and a Pillow fight. Four contestants try their best to knock the other player off the pedestal and onto the inflatable mattress below with giant padded jousting poles. This game is as fun to watch, as it is to play. The inflate is 22' x 24' and the minimum set-up area is 30' x 30' and requires one 20 amp circuit.
FUN RUN JUMP SLIDE
At over 70 ft long this gigantic 3 piece unit delivers the fun. It has pop-ups inside, a jumping area two climbs and a slide. Fully netted on the sides add safety and good visibility of the players.
HALF PIPE SLIDE
You'll get DOUBLE the fun on this 60' long, 23' tall slide. This is one of the most impressive slides you've ever seen. It actually looks like a giant half-pipe complete with inflatable skater dudes on top. Players enter from one side, climb up and slide, then climb up the other side again. It looks great and is fast and fun. The inflate is 60' x 15' and requires a min. set up area of 70' x 25'. Or if space is a a problem, you may rent 1 section of the slide so it becomes a very fast fun single bay slide.
DOUBLE HELIX SLIP AND SLIDE
Slide straight down or follow the curved slide into the pool. It is a fun ride either way. This inflatable that is 18' tall and 36' long. Access to water is needed. Available with a slip and slide that connects to the side so you have a spectacular and fun water attraction.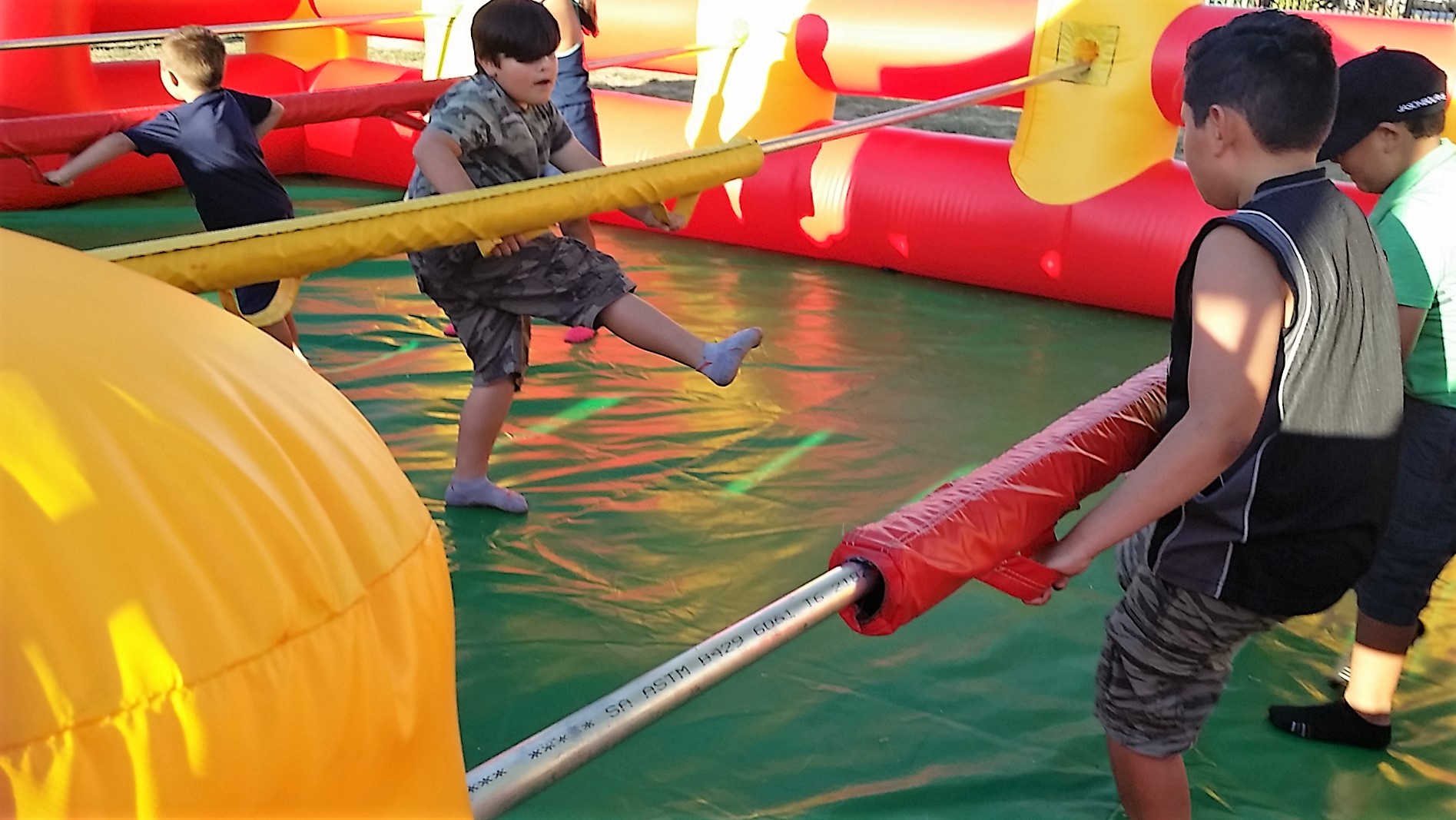 HUMAN FOOSBALL
Players on this life-size foosball "table" must hold tight to sliding sheaths covering flexible rods so, as with non-human foosball, they're restricted predominantly to lateral movement during play. Using a standard soccer ball, you and you 9 best kick-happy friends can try their foot at human foosball!
INFLATABLE ARCHERY
A specially designed bow and arrow that is very safe. Player shoot floating balls into an inflatable backdrop.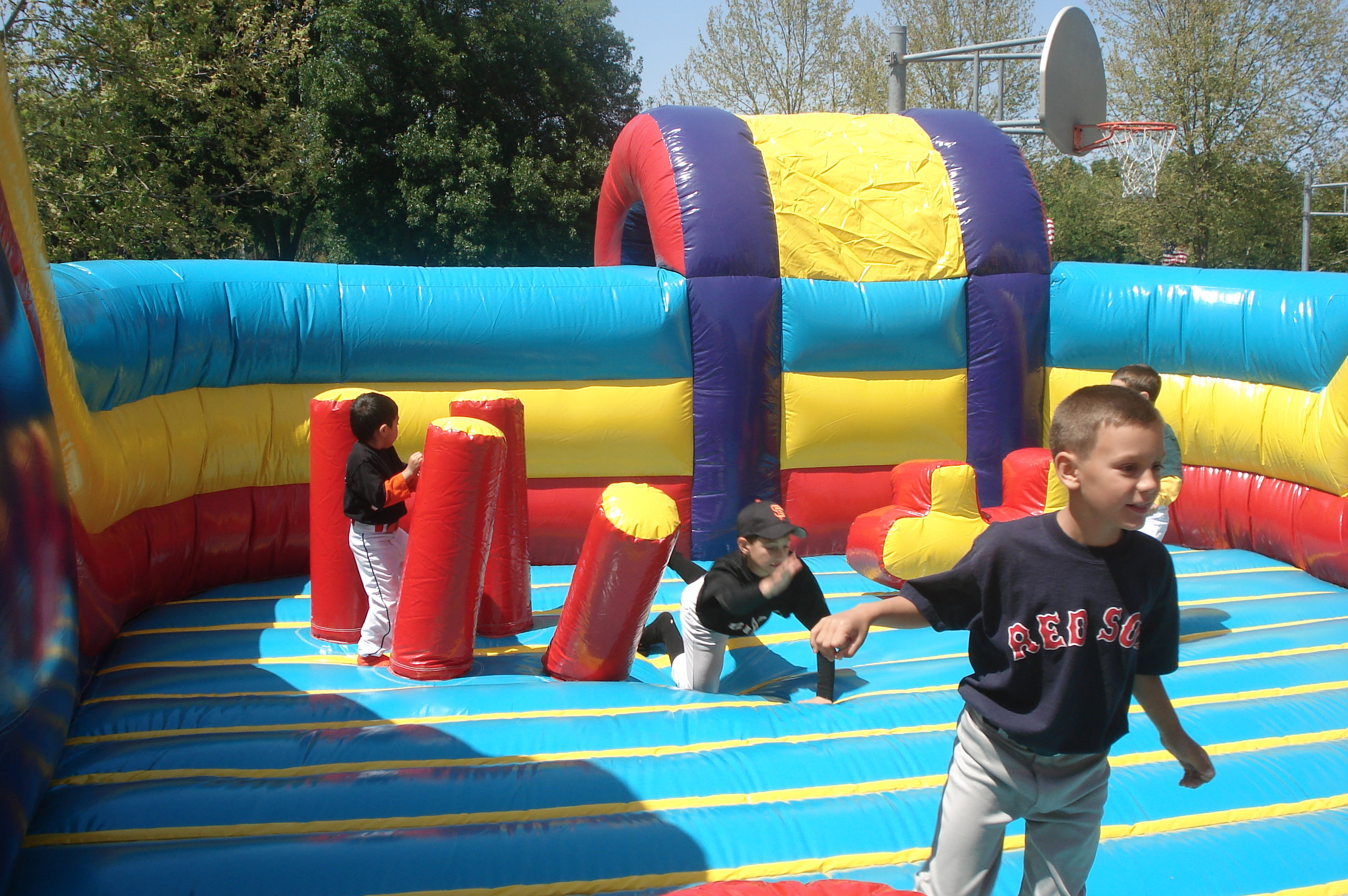 KID'Z GYM
The huge gym themed play space is complete with bar bells, a teeterboard, basketball hoops and popups and is surrounded by an obstacle course with popouts, popups, climbers and slides.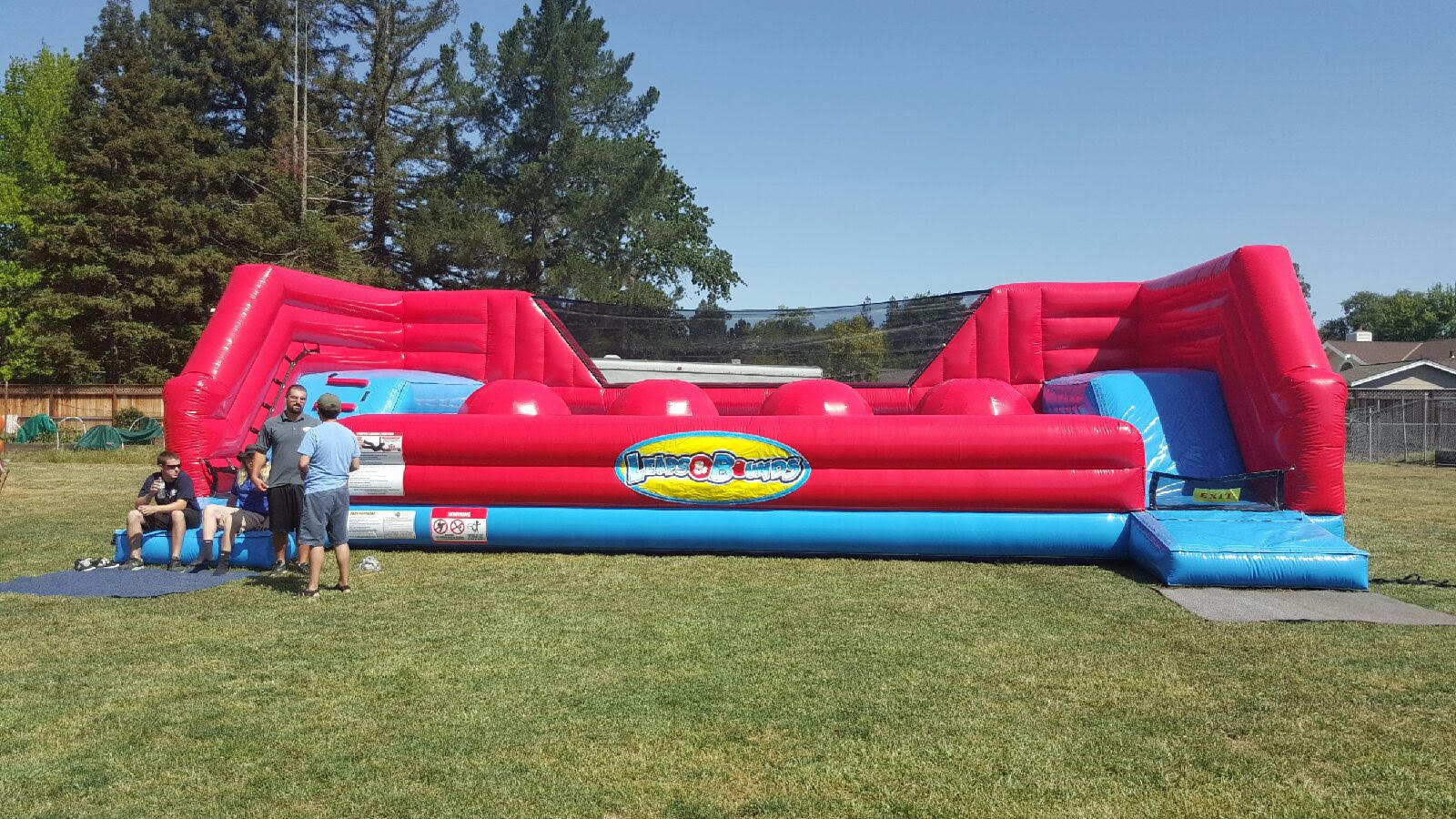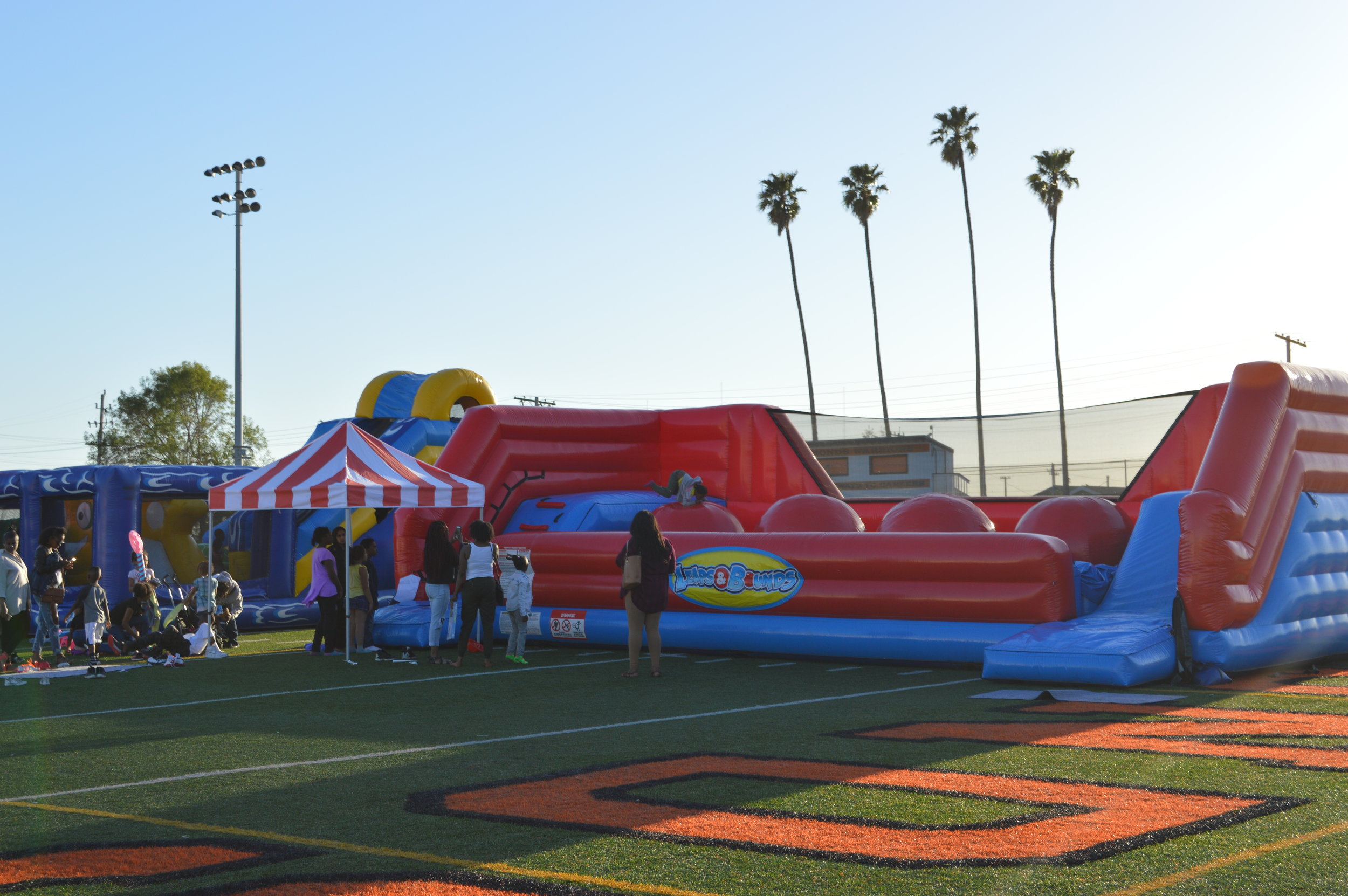 LEAPS AND BOUNDS
This game features a series of four giant inflatable balls which challengers must leap across to reach the other side. Climb up the ladder on one of the side platforms high above the biggest ball pit you've ever seen. Then try to cross the course by leaping from ball to ball like a frog or running across the giant balls to make it to the other side! But don't worry if you fall off, this floor of the pit protected by our super-soft landing cushion featuring air bag technology.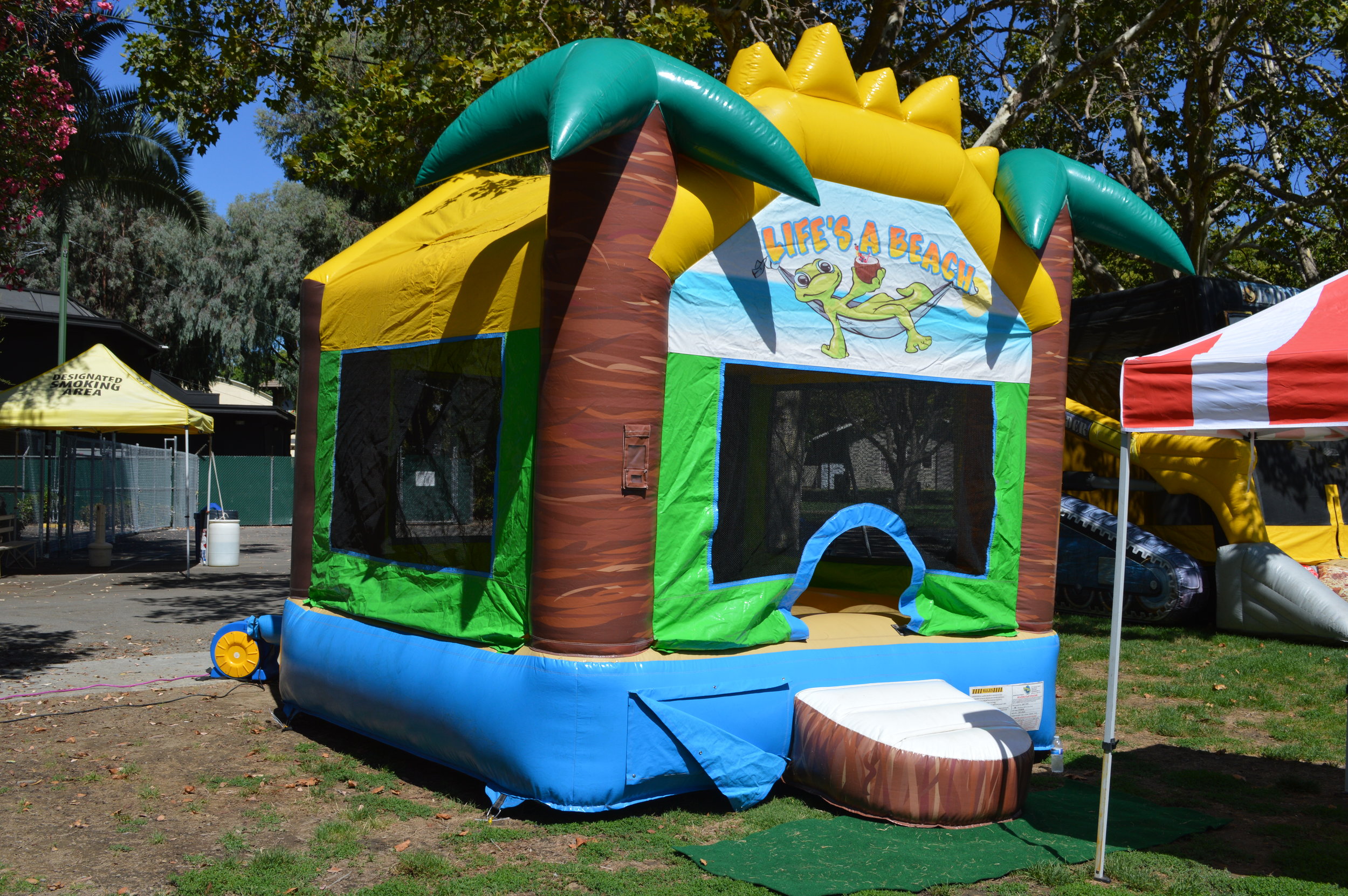 LIFE'S A BEACH BOUNCE
Basic 13 X 13 Beach themed unit
LONG JOHN SILVER PIRATE SHIP
Beautiful and Fun! 32'x 16' x 17 tall allows plenty of room to party in this bounce slide combo.
LOST TEMPLE SLIDE
Standing at 22 feet with vibrant graphics and super fun and super fast double-laned slide, you're sure to add some flash to any event!
MELT DOWN
Toxic Meltdown is our 8 player action game, which challenges your stamina, agility and reactions. Jump, duck and be quick so you don't get knocked off the podiums by the moving joust!
POLKA DOT
The inflatable version of twister. If you thought the regular version of twister was funny, wait until you see people going for right hand blue when the surface is inflated. This is fun for kids and adults and a real crowd pleaser.
RAT RACE OBSTACLE COURSE
This spectacular obstacle course incorporates a brand new "Figure 8″ design where you race your opponent in opposite directions instead of the conventional straight track. This enormous obstacle course stands over 24′ tall and has over 100′ of obstacles including, tire runs, squeeze plays, tackle dummies, tunnels, mini rock wall and a giant slide.
RESCUE HEROES PLAYSPACE
This is serious fun for the little ones. Designed just for the under 5 crowd with lots of fun stuff to climb over inside. The open top allows parents to keep a close eye on the kids and see how much fun they are having.
ROBO SURF
Surf's up! Get ready for summer at the beach and hop on our mechanical surfboard for the ride of you life. With out surf machine you can hang ten anywhere. An operator controls the system by adjusting the angle and motion of the surfboard adjusting difficulty levels to suit each individual. Don't worry about wipeouts, participants fall into an ocean of inflatable fun.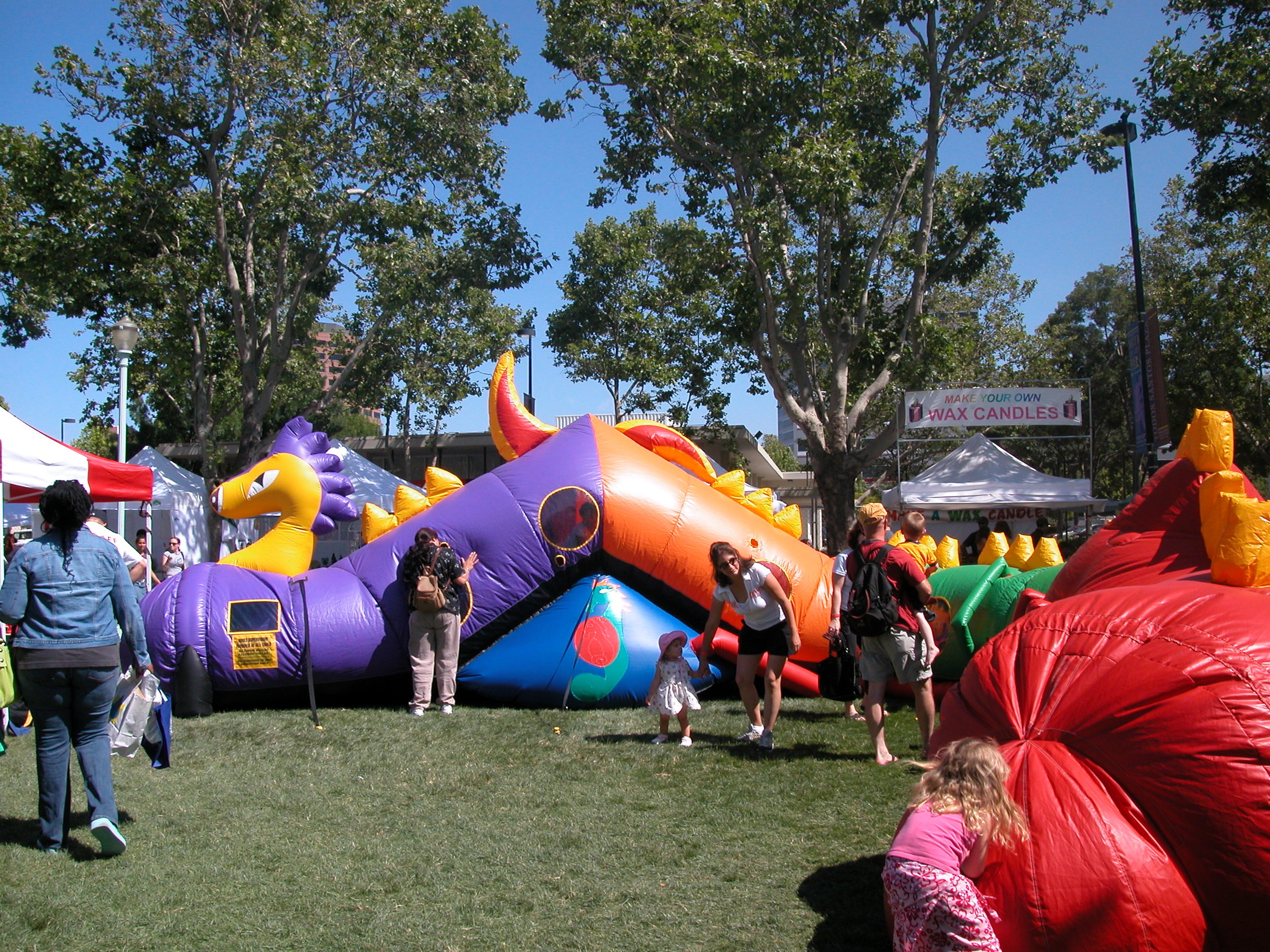 SEAWEED SEA SERPENT MONSTER
Seaweed is 55 feet of crawl through fun. Lots of biffers and baffers inside and a cool little slide at the beginning gets the fun going.
SINGLE BAY SLIDE
18' single bay slide. Kids will have a blast sliding again and again on this attractive single bay slide.
SKID LOADER BOUNCE
Looks just like a real tractor, the detail incredible the fun factor is high. 19' x' 14' requires about 25' x 18' to set-up. This is also awesome to pair it with the Dump Truck Slide!
SLIP N' SLIDE
This is the perfect activity for hot summer days and pool parties. Players run and slide to the end. This is not like the slip and slide many remember as kids where you you jumped on a hard surface that hurt and then slid onto the grass. This is a soft landing with a stop at the end so no pain just plain fun. Requires access to a hose and electricity.
SOCCER CHALLENGE
Everyone that plays this game has a blast. Each player gets two balls to start. If you get the ball through one of the holes it goes to your opponents side and they now have 3 balls to get rid of. Get your last ball through the hole before your opponent kicks one back and you win. It is a challenge to get the ball through the hole and you are kicking as fast as you can to beat your opponent. It can also be played as a simple get it through the target and it comes back game.
SOCCER DART CHALLENGE
Combine the fun and competitive game of darts with the challenge of soccer and you get Soccer Dart! This giant dartboard attracts kids and adults to keep coming back to spend hours of fun!
SPACE ADVENTURE
This 16' x 25' space themed slide and bounce duo is great for any party. Inside their is space men/spaceship pop-ups and a basketball hoop along with other various pop-ups to climb and crawl through. The colors and art on this inflatable are out of this world!
SPEED SPORT BASEBALL THROW
Challenging and fun for all ages. State of the art radar and a large display allows each player to see how fast they can throw of kick. Available with baseball or soccer backdrops. Available in 2 sizes.
SPUD BROTHERS OBSTACLE COURSE
This is an obstacle course like no other. In the back of this 38' long inflatable are the eyes, nose and mouth of the spud. Each player must run through all of the obstacles and back again and place the face part on the spud then send their teammate for another. The first team to complete the face wins. This is one very competitive game!
STAGECOACH BOUNCE GOLD RUSH
Perfect for Western themed events!
SURF'S UP SLIDE//CALIFORNIA WAVE SLIDE
This is a spectacular inflatable. The giant wave is a dual bay slide and a work of art that is sure to be the center of attention at any event. At 32' tall and a 24' slide area this is the perfect addition to a large event or picnic.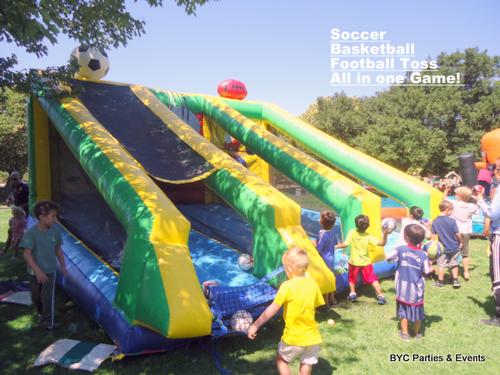 THREE IN ONE SPORTS
Soccer Kick, Basketball Toss and Football Toss all in one inflatable game. This is a great addition to your picnic since it is fun for kids and adults to play. 20' x 20' x 13' Tall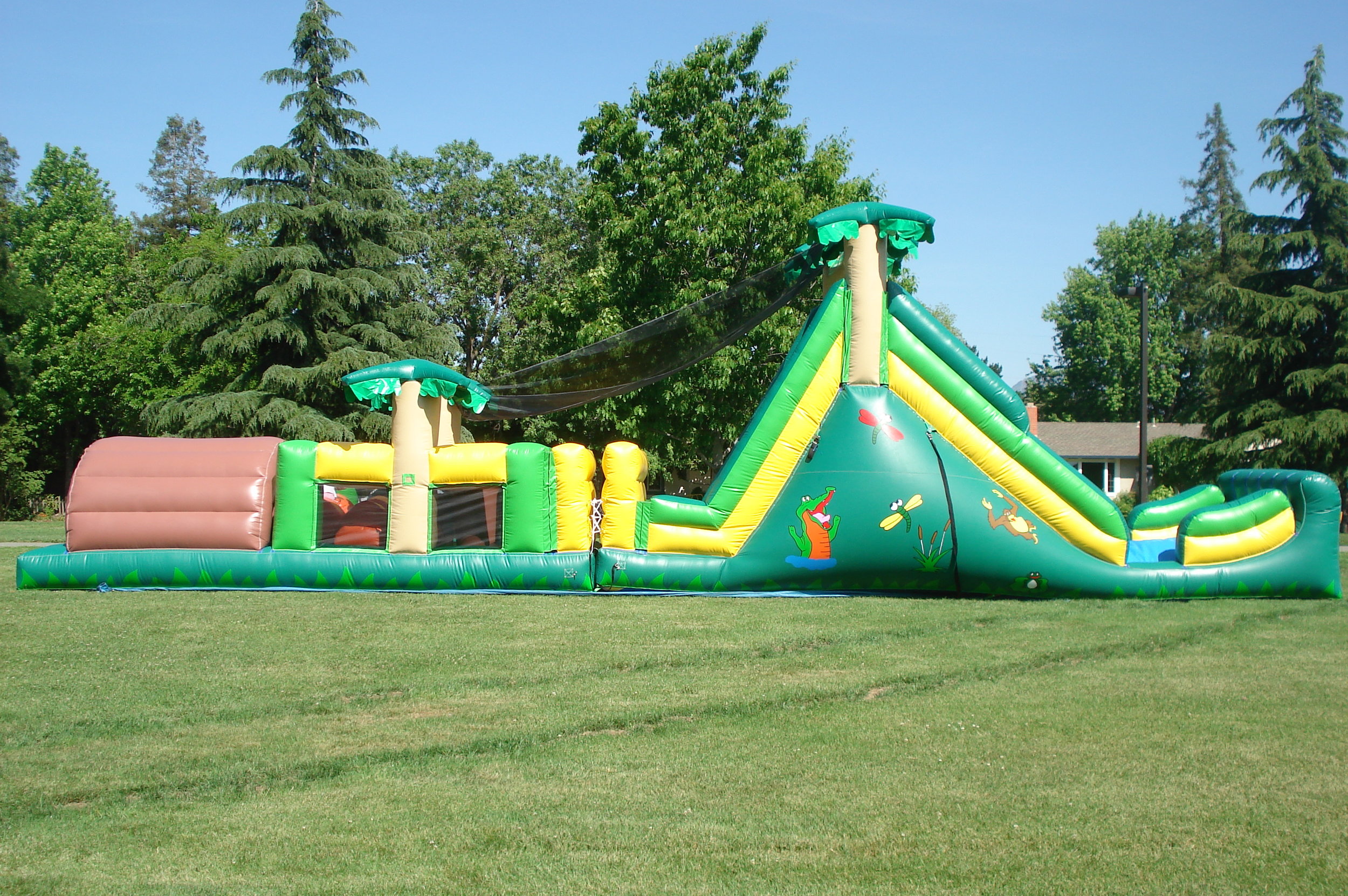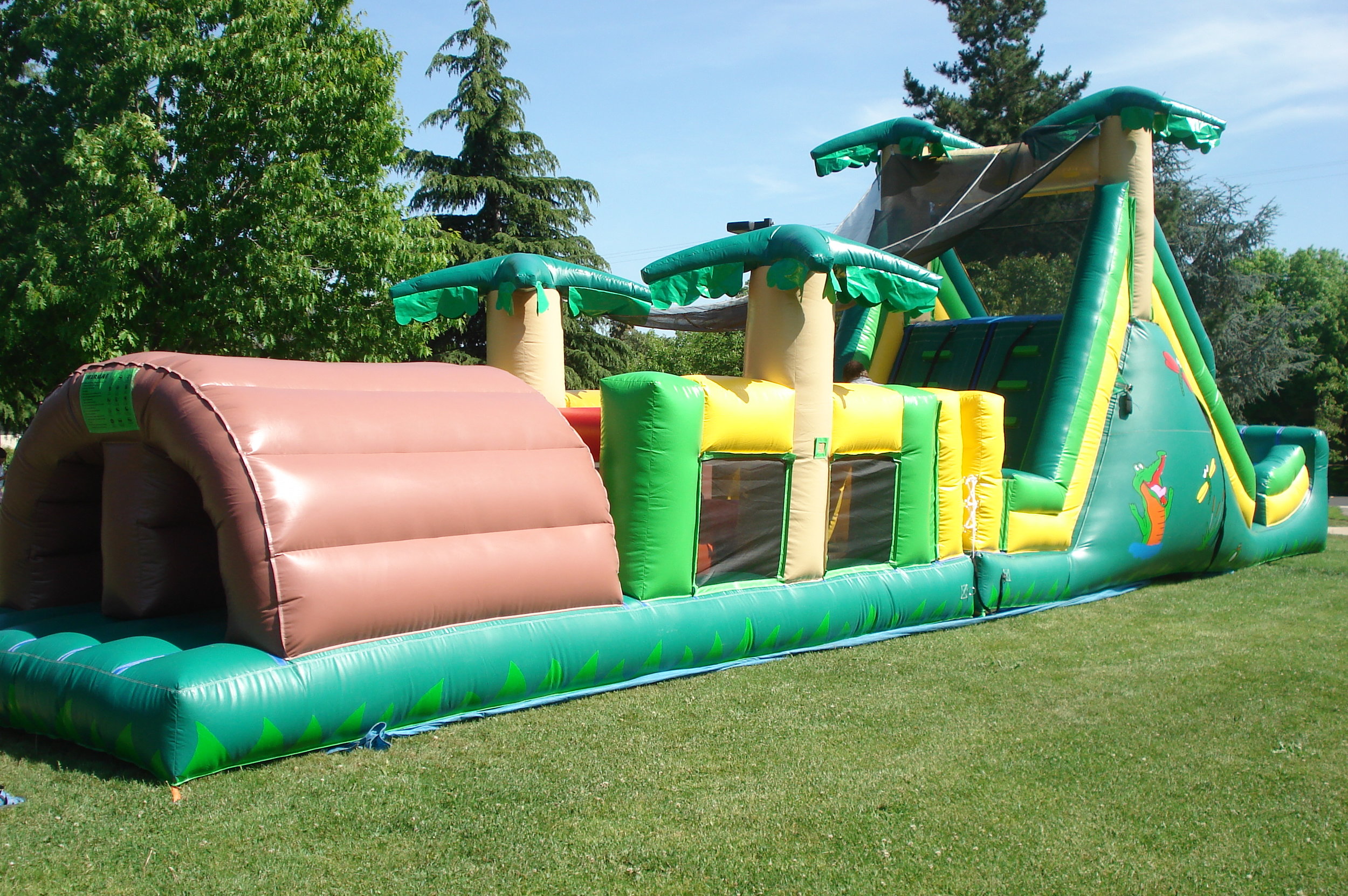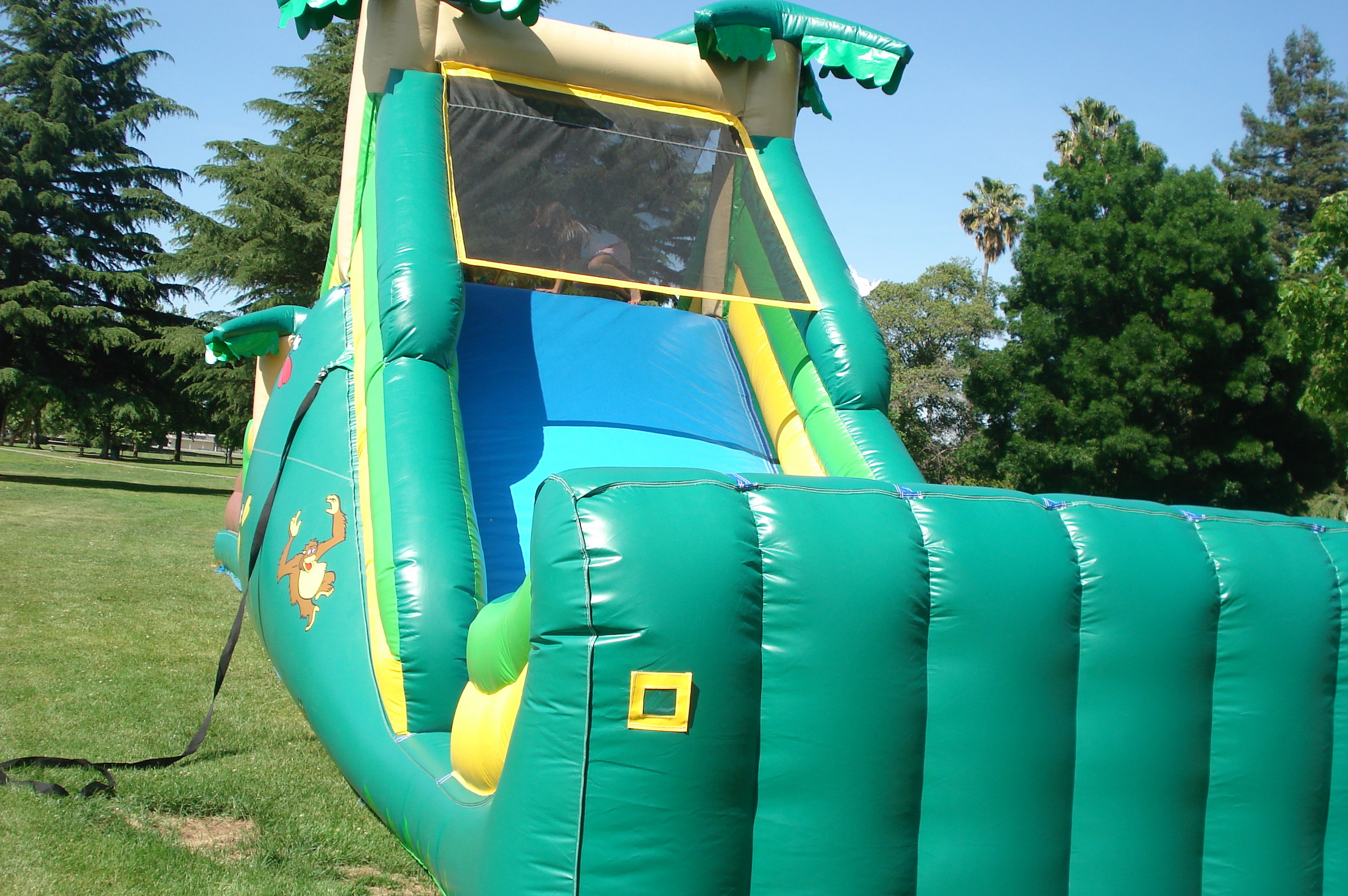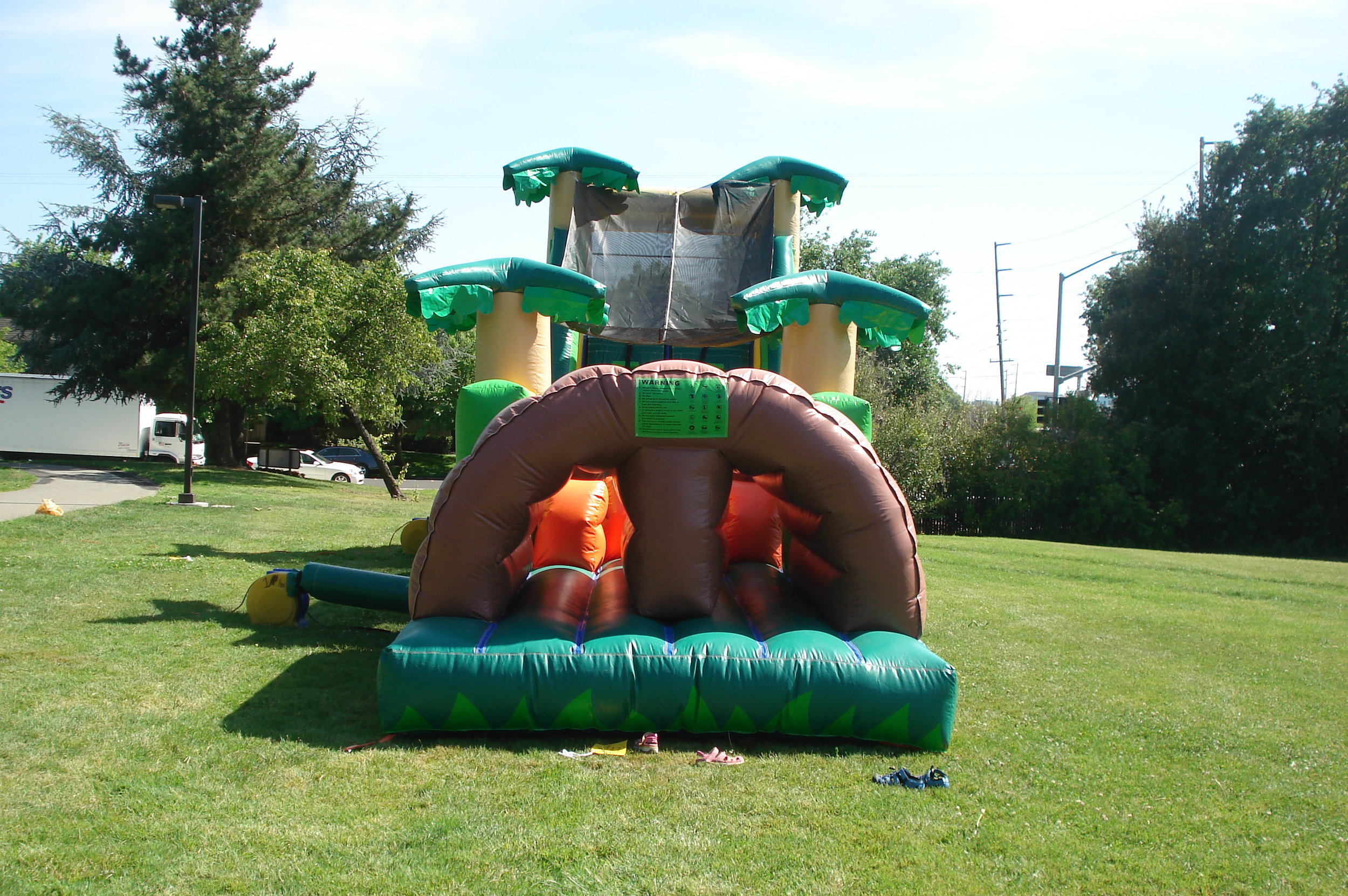 TROPICAL OBSTACLE COURSE
This a 52' Obstacle Course with stuff in the middle to make your way through and a slide at the end to make your way over. Everything is enclosed to make sure the fun stays in the game. A very fast fun unit with a Tropical look perfect for many theme parties.
UNDERSEA ADVENTURE OBSTACLE COURSE
Kids enter through the mouth and encounter biffers. baffers and all sorts of other cool stuff to climb over and through. There is also a slide at the end to add to the excitement. This unit is over 55' of fun and will entertain up to 250 kids per hour.
VELCRO WALL
The player slips on a specially designed Velcro suit and launches themselves into the air off the inflatable cushion step to see how high they can go. They stick to the wall in the position they hit it. Hilarious and fun!
WACKY WORLD
It's a Wacky World, especially in this fun-filled adventure! Run, climb crawl, hopscotch, slide, jump, dodge, squeeze and twist yourself wacky. Wacky World incorporates both a hopscotch and twister style surface for kids to play. Excitement abounds! The inflate is 29' x 28' and is 12' tall.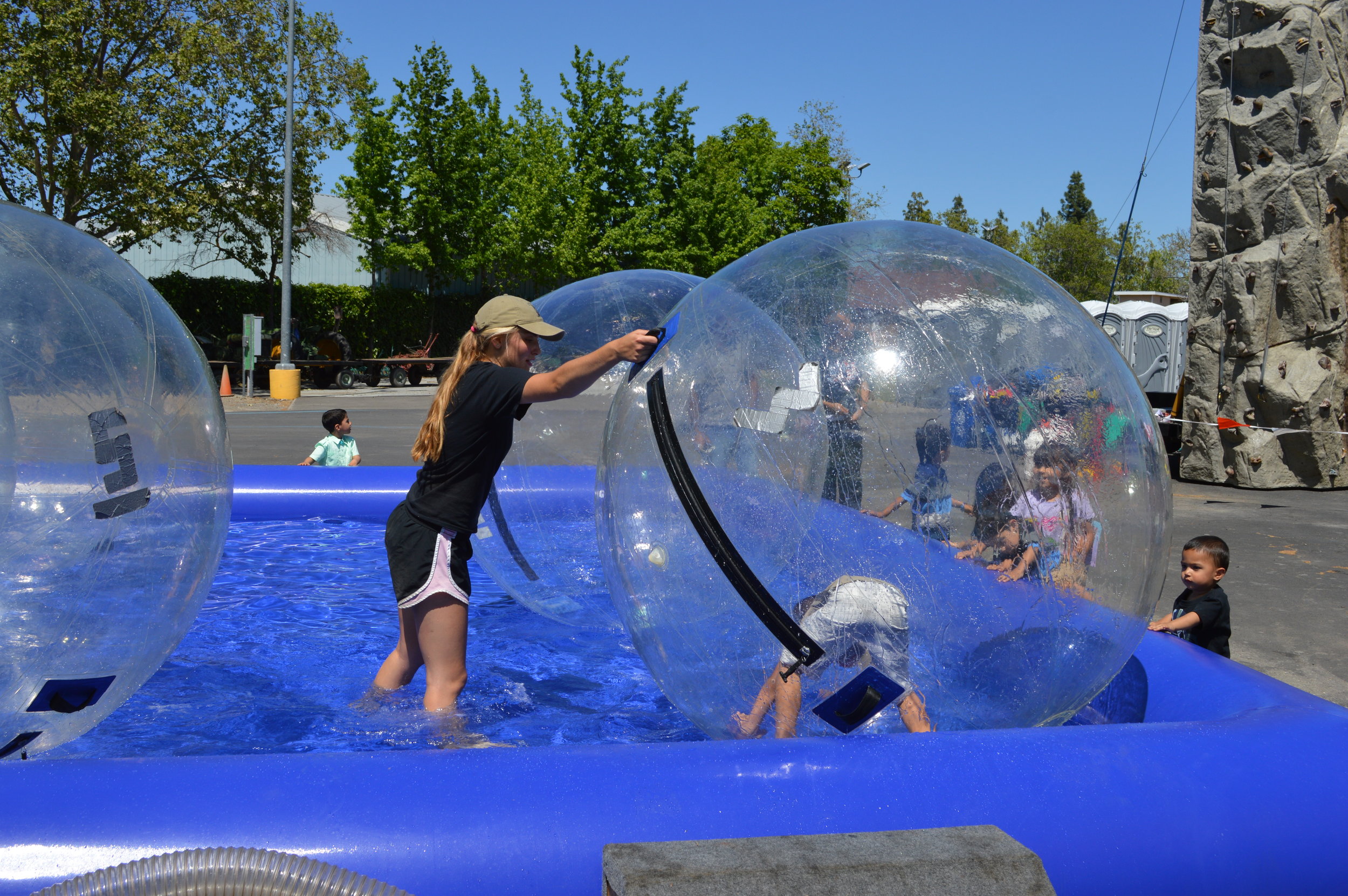 WATER BAlls BOBBLES
You'll not only have fun playing in this unit but you'll have a blast watching it too. Think of a giant hamster ball in a huge pool of water. This inflatable can hold up to 6 players, each in their very own giant ball full of air. This inflatable requires water access and includes two trained staff. Water can be hauled in by truck for an additional charge.
WILD RAPIDS WATER SLIDE
This Super fun water slide is 35 ft. long and is great for a hot day!
WRECKING BALL
Wrecking Ball is the best game to challenge your friends in a duel! The players get onto a inflated pedestal and use the giant Wrecking Ball to knock each other off onto the inflate!